These steps will help you find big homes in pre-foreclosure and foreclosure
If you want to buy a big house, it may not be as difficult as you think to find one at a price below market value. These steps will help you find big homes in pre-foreclosure and foreclosure.
Public Records Searches
You can find big houses for sale in public records at your local county courthouse. When a lender sends a Notice of Default (NOD) to notify a homeowner that he or she is behind on the mortgage and are going into foreclosure, it must also be filed with the county. Likewise, when the lender sends a Notice of Sale (NOS) to inform the homeowner that an auction date has been set, the NOS must be filed with the county.
You may search these records free of charge and contact the homeowner to inquire about a pre-foreclosure sale. Keep in mind that the homeowner may be trying to pay the delinquent mortgage payments and not appreciate your inquiry. Real estate agents who specialize in foreclosure recommend you mail the homeowner a postcard rather than go to the house.
Paper Publications
Lenders are also required to put the NOD and NOS filings in the public notices section of the local newspaper. You can find short sale listings advertised in the real estate section of local newspapers, as well as other real-estate-related publications. A short sale is a pre-foreclosure sale in which the mortgage lender agrees to let the homeowner sell for less than is owed on the home. You may not find home prices drastically below market value, yet the prices could be significantly lower than what the current homeowner paid for the house.
Internet Resources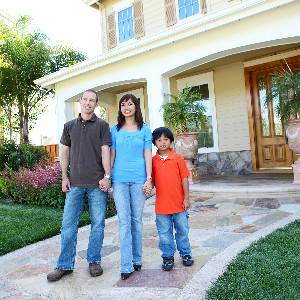 Once homes are foreclosed, you can find them listed on several websites. Major banks typically list available foreclosures on their websites and with realties that represent the homes. The U.S. Department of Housing and Urban Development (HUD) has thousands of foreclosed homes listed on its website. Additionally, there are many websites dedicated to helping you find foreclosed homes for sale. Most of these websites provide search tools that allow you to search for homes by square footage so you may find bigger houses quickly.
This article provides a comprehensive list of foreclosure listings sites of major banks and government agencies, such as HUD.
Of course, there are real estate agents who specialize in big houses for sale - both foreclosed and traditional. RealtyNow can connect you with local agents and provide real estate listings with big homes for sale.