How to Rent a Home
Renting a home is a good option for people who temporarily cannot make the home-ownership hurdle or are simply jittery over today's depressed housing market. There are things you need to look out for before renting a home in order to make your stay comfortable, peaceful, and worry-free. Just remember: the criteria and the process of home buying can also be applied to home renting.
Steps to Renting a Home
If you're considering renting a home, you need to know your rights and know exactly what the rental terms are that you're agreeing to. Make sure you do a thorough inspection of the place so you can determine if it will meet your expectations and won't surprise you with hidden issues down the road. Look and act the part so you won't be turned down by a strict or suspicious landlord.
How to Rent a Foreclosed Home
Foreclosures don't just affect homeowners, but also renters. This can happen if the owner or landlord fails to make on-time and full mortgage payments. The property will be forced into foreclosure, which puts renters in jeopardy, as well. If the property you want to rent or buy is in the process of being foreclosed, you should consult with a foreclosure specialist so you can weigh the pros and cons of renting a foreclosed home .
More helpful information on renting a foreclosed home:
Rent an Apartment
Following the collapse of the housing bubble, the number of renters has swelled nationwide. As a result, there is stiffer competition for vacancies at prime locations as well as outrageously high rent. But you can get an ideal space if you negotiate smartly and hunt for a good deal.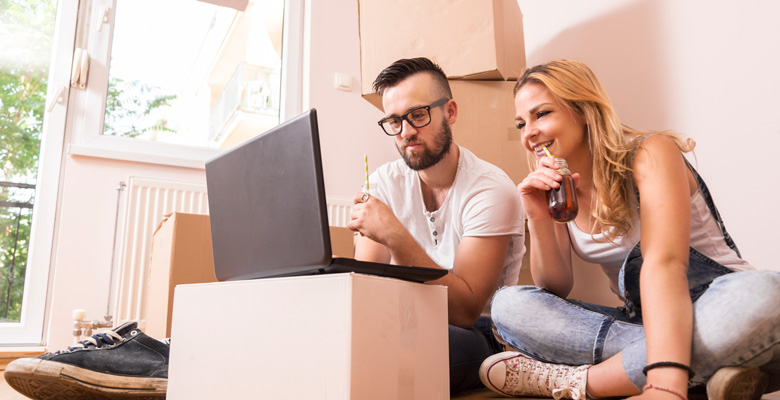 Renting a Home vs Apartment
Many consumers carefully evaluate the positives and negatives of renting a home versus an apartment. When considering if house or apartment rental is your best option, you must consider your privacy needs, financial capacity as well as the amenities, utility options, and access to work and basic services. In some cases the money saved when renting an apartment isn't immediately visible. When one considers money saved on gas for commuting, convenience to amenities and the generally lower maintenance nature of living in a smaller footprint then apartment living can look very attractive to savers.
Rent or Buy a Home?
Purchasing a home entails hefty upfront costs , something most people, especially the younger generation, cannot afford – which is why they would rather choose, or maybe are forced, to rent an apartment. On the other hand, homeowners nearing retirement or soon-to-be empty nesters may choose to become renters once more, to downsize cost of living and maintenance demands. Watch the video below for useful info on whether or not renting a home is a waste of money:
Deciding whether to rent or
buy a home
is a personal choice that demands careful deliberation and detailed planning – so you can make the most out of its advantages and freedom.
Helpful articles on whether to rent or buy a home:
Benefits of Renting a Home
More American households, across all income levels and generations, rent a home instead of buying one for many different reasons. Some believe that it provides just the right balance between stability and flexibility given the unstable real estate market nowadays. Buying a home is the centerpiece of the American dream. It puts you on the fast track to building wealth and gives you a pride of ownership, among many other advantages. In the end, you still need to consider the pros and cons of each to figure out whether renting or owning a home is best for you.
More articles on the benefits of renting a home:
Where to Find a Rental Home or Apartment
In the world of home and apartment renting there are many resources for finding rentals but without a doubt the most popular is Craigslist.org . Other good resources include RentHop.com with a cleaner more intuitive interface than craigslist and PadMapper.com who helps you narrow your search to more specific locations.
What is a Rental Agreement?
A rental agreement is a contract between a landlord and tenant that grants permission to the renter of his or her occupancy to the residential premises owned by the landlord. A rental agreement can be written, verbal or implied – but since it is the most important part of a landlord and tenant relationship, it is safer and more practical to have it in writing, signed and agreed to by both parties.
What is a Lease Agreement?
A lease agreement is a contract between a landlord and tenant where the lessor (landlord) agrees to let the lessee (tenant) pay a monthly rent in able to use a tangible asset (apartment, or property) for a fixed period of time agreed upon in the lease terms. Neither party can change the agreement – increase rent, pet rules, and duration of stay – without written consent from the other.
What is a Month to Month Rental Agreement?
A month-to-month rental agreement provides tenancy to a person who rents the property for a 30-day period. At the end of the month, the landlord or property owner and tenant are both free to change the terms – whether to automatically renew the agreement or end it by giving a written notice.
Rent or Lease a Home?
When it comes to renting a home, there are two options: sign a standard 12-month lease or opt for the month-to-month rental agreement. Leasing a home means you have the freedom to choose a fully-furnished property and not worry about buying your own appliances especially if money is tight. Another thing is that you don't need to be concerned about getting a rental hike because it is fixed, according to the agreed terms on the lease contract.
Helpful articles on whether to rent or lease a home:
On the other hand, renting a home offers flexibility especially if your job or lifestyle requires you to live in another city or location. You also won't be fined for breaking the lease contract because you can just simply move by the end of the month.
What is a Rent Deposit?
A rent deposit is a one-time security cash or cheque deposit you give to your landlord when you move in which can be used to cover any unpaid rent or damages. Requiring a rent deposit is essential protection for the landlord's rental. You may not use your rent deposit to cover your last month's rent but it is refundable.
How Much is a Rent Deposit?
Each state has fixed rules about the amount of rent deposit a landlord can collect from a tenant. The maximum amount depends on the location of your rental property but the landlord cannot charge more than two times your monthly rent. Check with your housing authority if you have any specific questions or concerns over your rent deposit.
Helpful Articles on Renting a Home