Auctions are usually fast-paced affairs, here are some expert tips for making a winning bid.
If you interested in buying a property from a foreclosure auction, there are a few things you should be aware of. For example, an important thing to note about foreclosure properties is that when a lenders reclaims one of these properties, a foreclosure auction will be the first and often the only chance you will have to buy the property, so don't assume that you will be getting a deal simply because it's a 'foreclosure'. To make sure that you get the property for the best price, you'll have to do your homework.
Believe it or not, foreclosed homes can come in several different forms, such as short sales or pre-foreclosures, which is when an owner who can no longer afford the property will try to make a deal with a buyer with the approval of their lender. When this doesn't work, the lender then may put the home up for sale at public auction. If the highest bid at auction is insufficient, then the title of the property is returned to the lender and the home becomes a bank-owned (also known as REO) property.
We can conclude then that the purpose of a foreclosure auction is for the lender to get the highest possible price for the property, in order to mitigate the losses they suffered when a borrower defaults on a loan. If the sale amount covers the outstanding mortgage debt and various foreclosure costs, then anything remaining will go to the borrower. As a bidder, it is understandable that you are looking for an investment bargain, which you very well may find - many homes sold at foreclosure auctions ultimately sell at fraction of their original cost.
Before you go forward with purchasing a foreclosed home at auction, however, you should note that these auctions differ substantially from a typical residential sale. There are no terms to discuss, no haggling over paint or appliances and the property is sold as is, where it is and with any damages caused to it. The condition of the property may range from perfect to very poor and some may even be occupied. This is another reason why it is important to visit the property you're interested in before it is put up for auction, if you can. You may also encounter a "zombie foreclosure" which is when the previous homeowner has abandoned the property before the foreclosure process has been completed. The bottom line is - if you are interested in buying a foreclosure property at an auction, you will need to be prepared. The auctions are usually fast-paced affairs, so here are some expert tips for making a winning bid.
Get pre-approved. Before you go to a foreclosure auction, you should do is visit the bank. Unlike traditional auctions that make you pay for your purchases upfront, a foreclosure auction only requires a down payment. You need to bring a certified check for a required percentage of the home. This percentage varies depending on the auction, so research the auction rules. You will also need to provide your pre-approval letter for financing the remainder of the purchase.

Find foreclosure auctions. When you're pre-approved and ready to buy a home in foreclosure from an auction, you should begin to check for any upcoming auctions. Some places to look include are:

The

U.S. Department of Housing and Urban Development

, which lists properties in foreclosure on their website.

Mortgage lenders, who will have lists of properties with defaulted mortgages.

Local courthouses and newspapers, which have postings about foreclosure auctions.

Research the property. Before you head to an auction, carefully research the property you're considering. You might not know it, but many people only look at the location and size of the house before showing up at the foreclosure auction. Take the time to drive out and look at the condition of the property. Checking out the house can help you decide how much to bid for the property, you should stick to that amount when auction day comes. You can't get inside the house, but you can look through the windows and you can also check the state of the property's exterior. During the auction, you can drop a few hints about the condition of the house that might scare off the other bidders. These steps can help you decide on a property:

Do a title search. This will tell you whether there are any other mortgages on or liens against the property.

Visually inspect the property. Usually you can't inspect the interior of a foreclosure property before purchasing it, but you can try to determine the home's condition based on the appearance of the exterior and its yard.

Research recent local sales online or through county records to get a sense of the home's current value.

Research the neighborhood. If the home slated to be auctioned is in a decent neighborhood, its value will likely go up in the future. But if it's in a distressed neighborhood with many foreclosures, you probably want to avoid buying the home.

Dress professionally. When you show up at the foreclosure auction, wear a suit and tie. Not only does this make you look professional, but it can also trick other buyers into thinking you're an investor or a representative from the bank. This can scare some bidders because they think you have unlimited funds to secure that house.

Make timely bids. Another tip for buying at home auctions concerns when you bid. You might feel tempted to make the first bid, but wait a few minutes before you enter the contest. When other bidders start dropping out, raise your paddle and place your offer. You have a better chance at getting the house at a lower price when there is less competition. When you do make a bid, it's important to note that even with the best intentions, the excitement of the auction can cause you to overbid or lose out on a potential property. To keep this from happening, you should have a final number in mind that represents the maximum amount you are willing to pay and don't allow yourself to offer more than that final number.If your bid is selected, you will have to provide a down payment and pay for the home shortly after. Make sure to bring cash or a cashier's check to the auction to pay for the down payment and secure financing to cover the rest of the purchase before you bid.

Research state laws. In many states, homeowners have the right of redemption. This provides a time when the previous owner can get the home back by paying the delinquent mortgage payments and any other fees. Often, the redemption period is 20 days. If your state has the right of redemption, you could lose a home after you have a winning bid. You get your deposit back when this happens, but the refund won't be immediate.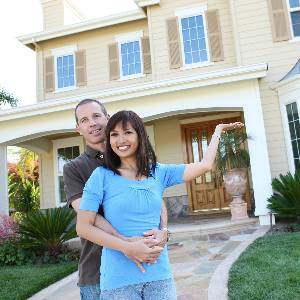 These steps can help you make a successful bid at a foreclosure auction and buy a home that is a good investment. If you'd rather buy a real estate-owned property, go to RealtyNow for foreclosure listings in your area. To learn more about buying foreclosed homes, look at our guide:Foreclosure Listings: 6 Places to Find Them and How to Buy Them.