In the decision whether to rent or buy, what to expect if you buy is that homeownership has pros and cons. So does renting. Weigh both and make the best choice for you.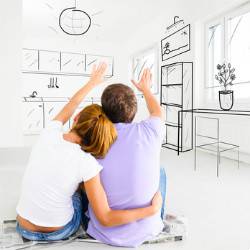 The housing market in many areas is currently a buyer's market, so you may be considering the steps towards becoming a homeowner. Knowing what to expect when you buy a home is vital when it is time to make a decision on whether to become a homeowner. There are positives and negatives to both renting and buying, and it is important to make an informed decision when it comes to making a major decision that will impact the rest of your life.
Your real estate market
Your market may not be a buyer's market, so knowing what to expect if you rent or buy in your local market important. In a seller's market, purchasing your new home may be difficult. To gauge your market, you can look at the prices of homes for sale or talk to a local real estate agent. An agent can help you determine your market and which homes are good deals. Need an agent? RealtyNow can connect you with professionals in your area.
Your budget

Deciding whether to rent or buy right now should hinge on your budget more than your real estate market. One thing to consider whether you have money to repair a home. It's important to be prepared financially to do repairs, especially if you are buying a foreclosure. You can quickly use your savings making repairs to a home. When you rent a home, the landlord is responsible for repairs. If you think making repairs will cause financial hardship at this point in your life, you should probably wait to own a home. Knowing what to expect if you rent or buy is important, especially when it comes to foreclosed homes and older properties that are more likely to need maintenance in the near future.
Your home loan
However, there are other options in the buy vs. rent debate. If you buy a foreclosed home, you may get such a low price that you can afford to make repairs. You may also qualify for a rehabilitation home loan from a lender or the Federal Housing Authority. These loans cover the home price and the repairs. Have any home of interest professionally inspected, to disclose needed repairs or major problems.
Regardless of the type of home you buy, you need a down payment. You may be required to pay 3.5 percent of the home or 20 percent of the home, depending on your financing. A bank loan officer or mortgage broker can help find your best home loan option.
Rent-to-own option

If you like a home but are not ready to buy, don't have a down payment or don't qualify for financing, you may want to consider a rent-to-own contract. When you rent to own, you can usually terminate your contract if it turns out that the home has severe problems that will require extensive maintenance.
If you know what to expect when you rent or buy a home, you are much more likely to make the right decision for your life and current budget. Never jump into something as important as purchasing your first home without doing research.