Many states have legal aid programs that provide legal help free of charge.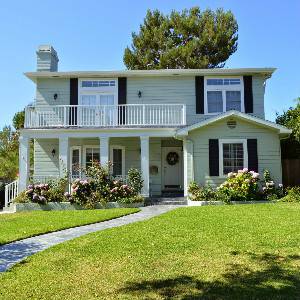 Whether your home foreclosure is due to the burst of the real estate bubble, a rising interest rate or a loss of income, losing your home is not an easy thing to deal with. If you're a struggling homeowner facing foreclosure, you'll need to decide not only if it is worth your time to fight the foreclosure, but also if it is worth paying for an attorney to help you. In some cases (say you have a valid defense to the foreclosure and want to keep your home) you'll need a lawyer to assist you.
Hiring a real estate attorney can help make the foreclosure process go as smoothly and painlessly as possible. Many states have legal aid programs through which you can get an attorney's help free of charge. Read on to learn more about when it appropriate to hire an attorney to help you and what you can do on your own.
Legal Jargon
Each foreclosure case is different and has complicated nuances that can ultimately make or break the case. In sight of this, it is unlikely that a homeowner could mount a successful defense to foreclosure without an attorney. The legal terminology used in real estate proceedings is often complex and full of confusing phrases and statements. Chances are, you read over your mortgage contract with your real estate agent present to help explain the ins and outs of your contractual obligation. It is equally, if not more important, to hire an attorney to help explain the legal jargon inherent in home foreclosures.
Protecting Property
While an attorney may not be able to stop the home foreclosure, he or she can help ensure that your other assets are protected. This is important for those who own other property, including land, additional homes and even personal vehicles. Without an attorney, you may find yourself losing more than the house.
Relieving Stress
It is no secret that the foreclosure process is stressful. The average homeowner is unequipped for the paperwork and court dates involved with foreclosure. A good real estate attorney is able to both handle your case with detached professionalism and provide much needed understanding and guidance. Having someone knowledgeable in your corner can make the home foreclosure process easier.
Saving Time
Home foreclosures are often long and drawn-out processes for both the homeowner and the bank. If your main goal is to gain some time before the lender completes a foreclosure (perhaps so you can come up with the funds to reinstate the loan or refinance), one way you can do this on your own is to submit a loan modification application to your loan servicer.Federal lawstrictly limits the ability of a mortgage servicer to foreclose on a borrower while also evaluating a loan modification.
Not only will applying for a modification generally you buy you some time, but you might get a lower monthly mortgage payment that will allow you to stay in the home. Even if the servicer denies your application, in most cases, you'll  get some time to make an appeal. Keep in mind that if the servicer already evaluated you for a loan modification, you cannot submit another application just to stall the foreclosure. Though, if your circumstances change, the servicer might have to perform another review.
A knowledgeable real estate attorney will help you determine what is and is not worth fighting for. He will know when you should stand your ground and when you should simply let matters proceed. Once your home is foreclosed upon, you can only save it in states with a right of redemption law. Even in those cases, it probably is not feasible to pay the delinquent payments, fees and fines.
Saving Money
Many real estate attorneys will not charge you for their time or services unless you win in court, and others will work out a payment plan to ensure that you don't have to pay it all upfront. Attorneys understand that you are probably don't have extra cash during a foreclosure and they are often willing to work out payment arrangements to help. Their services can also save you significant amounts of money when it comes to court costs and legal fees since they know how to negotiate and can act as the middleman with both the courts and the banks.
You might want to schedule at least one consultation with a lawyer even if you can't afford to hire an attorney to represent you through the entire process. Before going into the meeting, make sure you know how much time the attorney will spend with you, what he or she will help you with (for example, the lawyer may be willing to answer questions about foreclosure, but not about filing bankruptcy) and how much the attorney charges for the consultation. At the meeting, you should ask the lawyer to provide you with details about foreclosure procedures, to review the facts of your case and determine whether you might have a defense to the foreclosure. The lawyer can also help you decide your next steps and explain your legal rights.
Another option for you if you cannot afford to hire an attorney (even for just one meeting), is that you could try to find a pro bono or free, attorney. Some attorneys take on a certain number of pro bono cases to help people who have little or no income (or based on other factors). Contact your state bar association to get help finding pro bono attorneys who might be willing to assist you with your foreclosure case.
Get Assistance From a Legal Aid Society or a Foreclosure Prevention Clinic
A legal aid office may be able to help you for free if you qualify financially. Most states have legal aid programs for low-income individuals who need assistance. Some housing agencies also offer free foreclosure prevention clinics. At the clinic, volunteer attorneys and/or housing counselors will answer your questions and provide advice about the foreclosure process, mortgage modifications and foreclosure rescue scams. You might be able to speak with an attorney one-on-one or you may be part of a large group.
The bottom line is, even if you can't afford to hire a foreclosure lawyer, there are other options that may be available to you so that you can get prepared for the process.
You should seriously consider hiring a foreclosure attorney however, if you think you have a valid defense to the foreclosure. In most cases, you'll have to raise the defense in court, either by filing your own lawsuit (if the foreclosure is nonjudicial) or responding to the lender's lawsuit (if the foreclosure is judicial), which can be complicated. This means that it is usually better to hire an attorney than to go it alone if you want to successfully save your home.
As you have read, there are many reasons tohire an attorneywith experience in home foreclosures. If you want to research your home value or talk to real estate agent about a pre-foreclosure sale or a short sale, use RealtyNow to find professionals in your area by entering a zip code above.