When buying a home to raise your children in, the safety of the neighborhood should be a priority. Here are some ways to tell if you found a safe area.
When it comes to buying a home, families and soon-to-be parents usually gravitate towards communities that are relatively ideal and safe to raise kids. More than anything else, one of the most important considerations in choosing where to live is location, location, location.
Here are 6 ways to tell if a neighborhood is safe for kids to grow up with.
1. Safety and Security
The quality of infrastructure around the area says a lot about its safety and security factor.
Homes should be well-built and in good condition while streets should have ample sidewalks, working traffic lights, and street lights to say the least. These are just some things that can make the general surroundings easy and safe to navigate anytime of the day, but especially at nighttime.
If the house you're planning to buy doesn't provide you with a garage, is there an assigned parking space for the family car? Would you feel comfortable walking your dog or having your kids play around the neighborhood even when it's already dark?
2. Good Schools
Home values are greatly affected by the kind of schools available around it. Take time to find schools nearby. If it has excellent standing – SAT average, graduation rate, and average class size – comparable to the district or state's average, purchasing a home there is a good idea.
3. Public Facilities and Services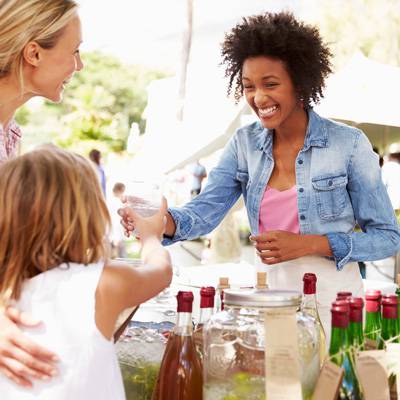 Judging a neighborhood's kid-friendliness can also be determined by its accessibility to public facilities and services that can protect their general well-being and health, promote family values, and cultivate their specific skills and qualities.
Hospitals, fire stations, places of worship, and various community centers that cater to extra-curricular activities for kids should be made available to its residents – a good indication that it is worthy to be called your home.
4. Kid-friendly Amenities
The availability of parks, playgrounds and kid-friendly open spaces is a plus factor for choosing a home within the neighborhood. Its retail and dining options as well as recreational centers should also be geared towards the needs of growing children.
Groceries that promote healthy and organic food choices should not be more than half an hour drive. Libraries, swimming pools, museums, and various recreational areas are all great amenities that will come in handy to enrich children's creativity and social skills and to devote their extra energy on.
5. Culture
If you are a family-oriented individual, there is nothing wrong with an urban redevelopment with lots of night-time activities going on. But it's safe to say that a suburban community close to nature and parkside neighborhoods would be more conducive to raising growing kids.
Don't limit your tour around the neighborhood during daytime. You also have to investigate if there's unreasonable noise going around especially at night.
Are there screaming children, barking dogs, chronic party people next door, and machines being operated even at the dead of night? If you can't find out about it yourself, ask your real estate agent to provide you with the particular information. Determining the activity level all throughout the day will give you an idea whether you can stand having your kids grow up in such a neighborhood or look someplace else.
6. Friendly People
An easy way to gauge the safe factor of a neighborhood for families with kids is to take a quick walk around and chat with the potential neighbors. More often than not, they would be more than willing to brag about the positives and complain about the negatives of living around the area. Talking to other parents is a plus point, too. You'll get first-hand information from those who have already settled there.