Real estate brokers, together with their agents, have the responsibility of assisting both home buyers/sellers with buying/selling a property.
But what is the difference between the two terms?
REALTOR®
A real estate agent who is a member of the National Association of REALTORS® is called a REALTOR®. He or she has the responsibility to work according to the standards set by the association and its code of ethics.
Real Estate Brokers
A real estate broker has taken up education beyond the real estate agent level as required by state laws and has earned the real estate broker license as well. Their state-issued license makes them rightful and proper intermediary between buyers and sellers of a property. They can manage their own real estate agency business, and are required to manage or supervise all agents working on their behalf.
Real Estate Agents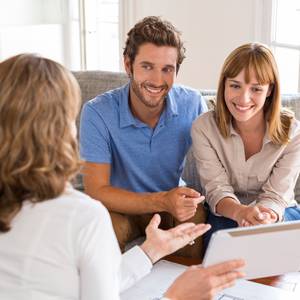 A real estate agent works under the supervision of a real estate broker. They are licensed by their state to be involved in a transaction between buyers and sellers but they do not have the legal capacity to broker the transaction.
A real estate agent cannot work in the industry without having been sponsored, supervised, or manager by a real estate broker.
Experience and Education
Real estate brokers possess higher educational attainment AND work experience than real estate agents. For example, the license requirements in Virginia are as follows:
Real estate brokers are required to undergo 180 hours of broker-specific classes, pass both state and national sections exams, and possess a minimum of 36 months' worth of active real estate-related work experience for the past 48 months.
Real estate agents, on the other hand, are required to take 60 hours of classes and pass both state and national sections exams.
Brokerage
A real estate brokerage is managed by at least one real estate broker who has a number of real estate agents working for him or her within the organization. The real estate broker oversees everything real estate agents do and is accountable by law for their actions and transactions with clients.
Real estate brokers are also responsible for the training and continuing education of the agents in order to maintain the agents' professionalism and improve their skills. Brokers ensure smooth transactions between their agents and their buyers or sellers.
Commissions
The real estate broker is, of course, in charge of running the business including getting buyers and sellers to hire its services as well as making commission payments for the agents.
After a successful transaction, brokers pay the agent involved with the commission that was agreed upon at the start of the transaction. For example, the broker and the agent will have a 50-50 share on the commission, although varying percentages might be utilized by different brokerage depending on the agreement.
Working With a Real Estate Professional
If you are looking for a real estate professional, choose someone who is a member of the National Association of REALTORS® because you can be assured that they will be committed to maintaining the professionalism of the real estate business.
However, you still have the freedom to choose whether you want to work either with a REALTOR®, a broker, or a real estate agent. Whichever you choose, take time to them, assess their work history, and ask for references.