Hiring a real estate agent may bring more cash for my home in Idaho.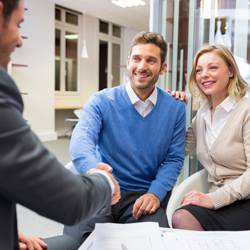 If you need to sell your house because of relocation, a growing family or financial difficulties, you may be intrigued by the cash for my home in Idaho"" advertisements that seem to be everywhere these days. The easiest way to get cash for your home is to sell it to an investor without the help of a real estate agent. However, investors and investment companies making cash offers will most likely pay 60 percent or less of home's market value.
Advertisements offering cash for my home in Idaho"" may be from legitimate companies willing to buy your property quickly and in as-is condition. But you aren't going to get the top price. You will need to decide your priority, a quick sale or the most profit.
If you need the most profit, or have a mortgage and need to pay it off, you may consider selling your home yourself or hiring a real estate agent. For Sale By Owner is a business that helps homeowners sell their homes without paying hefty commission fees. This business requires a listing fee to advertise your home sale online and in real estate books and newspapers.
There are a few things you should do when selling yourself:
Know your home value
Be flexible on your price
Inspect your property for needed repairs
Expect that buyers using a mortgage company will need to use a home inspector
On the other hand, hiring a real estate agent may be worth paying commission if you get tens of thousands more for your home. An agent will suggest repairs to bring the top price and help you market your home through the multiple listing services (MLS) and with showings and open houses.
If you do contact companies advertising Idaho real estate "cash for my home" listings, check to make sure they can legally do business in your state and don't have complaints filed against them with the Better Business Bureau.
RealtyNow can help you find comparable home values and real estate agents in your area.